I Can Gank Pictures Like Nobody's Business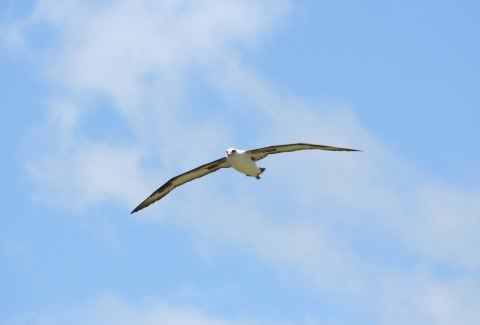 At length did cross an Albatross,
Thorough the fog it came ;
As if it had been a Christian soul,
We hailed it in God's name.
It ate the food it ne'er had eat,
And round and round it flew.
The ice did split with a thunder-fit ;
The helmsman steered us through !
My parents went to Hawaii a few weeks ago. Without me. Just the two of them. I told them that to punish them, I would get married secretly while they were gone and not drop the news until a few months down the road. So now everyone will just have to wonder....
Anyway, the picture above is one they took on one of their tour things, and I ganked it from the website my mom uploaded them to. That's a real live albatross, and the moment I saw it, the literature nerd within had to go re-read
Rime of the Ancient Mariner
.
Oh, and just so you know what I've been up to, here's a snapshot of the last 24 hours of my life:
- Got yelled at by a woman (driving a $100,000 vehicle, I might add) for "overcharging" her
- Continued building my vast following by making the best subs on the face of this earth, or at least that's what people tell me (and the tips I get don't lie)
- Ate five cookies for dinner; felt sick
- Remembered I have fish now, and I have to be a responsible pet owner and feed them (pictures of the fishies to come)
- Went to Wal-Mart at 4:30 a.m. to buy filters, frozen burritos, milk, and frozen pizzas; saw lots of cops "talking" to someone in the parking lot; his car was there when we came back out of the store, but the guy wasn't
- Watched the sun rise on the way home and had the following conversation -
"It's so light over there. That's gotta be the sun. Right?"
"I dunno, the moon was so, so huge tonight, remember? How it was full, and bloodred, and creepy?"
[Pause]
"Wait, what time is it?"
"A little after 5"
"Yeah, it's the sun"
- Slept (a little)
- Scrubbed years' worth of accumulated, caked-on charcoal from the burners on my stove
- Skipped work
- Went running with a guy
- Washed a car
And now I'm here - back to my beloved internet.