Of Carmadillos and Chinese Food
Philosophy ended early yesterday, and I strolled westward under darkening skies with a few classmates, as I headed to a friend's apartment to make caramels. This is the same friend with whom I composed a poem for my British Literature professor a few days ago. Jennifer. Not my roommate, the other one. Wow, this is getting confusing.
Anyway, I got there, and she pulled out the recipe and realized she had no margerine, so we headed of to Macey's to purchase some. Note the spelling: This is not Macy's the fabulous department store, this is Macey's the tragically-laid-out grocery store. The cheese is hidden in the very middle, to give you some idea of what goes on in that place. Anyway, we walked in and were immediately hit with an overpoweringly warm cinnamon smell and the grand strains of a Christmas carol streaming from a boom box surrounded by Christmas trees. Hooray! Christmas has come to Provo! Hooray!
Because of the festivities or something, I'm not really certain why, there were tables set up all over with free samples. They had eggnog! I love eggnog. We bought some. We wandered around sampling. We grabbed the margerine that was the root of our purpose. We made fun of the silly blue covers over the tabloids at the check-out. Okay, I made fun of the silly blue covers over the tabloids at the check-out, I have no Idea what Jennifer thinks of them.
Once we made it back to Jennifer's apartment, we started making the caramel. While I was stirring, it started bubbling, which scared me, but Jennifer assured me all was normal and to not stop stirring, for heaven's sake. The only problem with the whole thing is that we didn't have a candy thermometer, and we cooked it a bit too long, and the batch was pretty much ruined -- but only once it cooled. We poured it into a tin foil-covered bowl and left for Macey's again, to buy a candy thermometer and more sweetened condensed milk.
This time there were some flannel-clad, unwashed men, and they smelled pretty bad. I didn't comment. On the way out, we passed a man who also smelled pretty bad, and I wondered if I should comment this time about the stinkiness of the trip. But I didn't.
We grabbed some cheap Chinese food, intending to eat it with our eggnog and make a feast of it all. We did so upon returning, and then were confronted with What To Do With The Bowl Of Caramel. It hadn't yet hardened, so we took it out and poked it.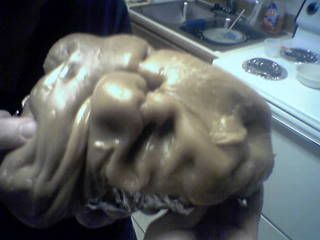 And then we got the idea to mold it into something, and I suggested an armadillo. I mean, it makes perfect sense, right? So we googled an armadillo image and sculpted away.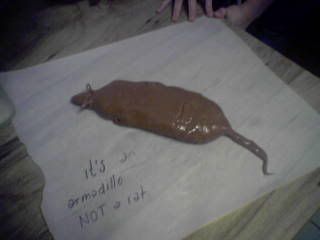 [The caption says "It's an armadillo...not a rat. You can't see the haiku we went to go along with it, because it hadn't been written yet.]
When Jennifer, her lovely roommate Tedi, and I trooped upstairs to show the girls up there our creation, I christened it the Carmadillo, and lo, there was much rejoicing in the land.
And then we went to some guy's apartment that Jennifer and Tedi knew, placed it on the mat, rang the doorbell, and ran away.
This, folks, is what we do in Provo for fun.