I'm Writing You A Symphony Of Sound
School starts tomorrow, so this will be brief.
Last night, "The Mixed Tape" came on the radio AGAIN.
Jack's Mannequin
is one of my favorite bands, and while I'm torn between excitement at hearing their stuff and disappointment that they'd be such sell-outs, I think it's at least safe to recommend them to you guys. If you only want your music squeaky clean, they're probably not for you, but then you won't get to have conversations like the following with me... [discussing why Jack's Mannequin was on the radio in Provo, but not in D.C., where my friend is living now, the little Benedict Arnold]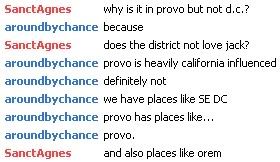 And that would be a tragedy, wouldn't it.